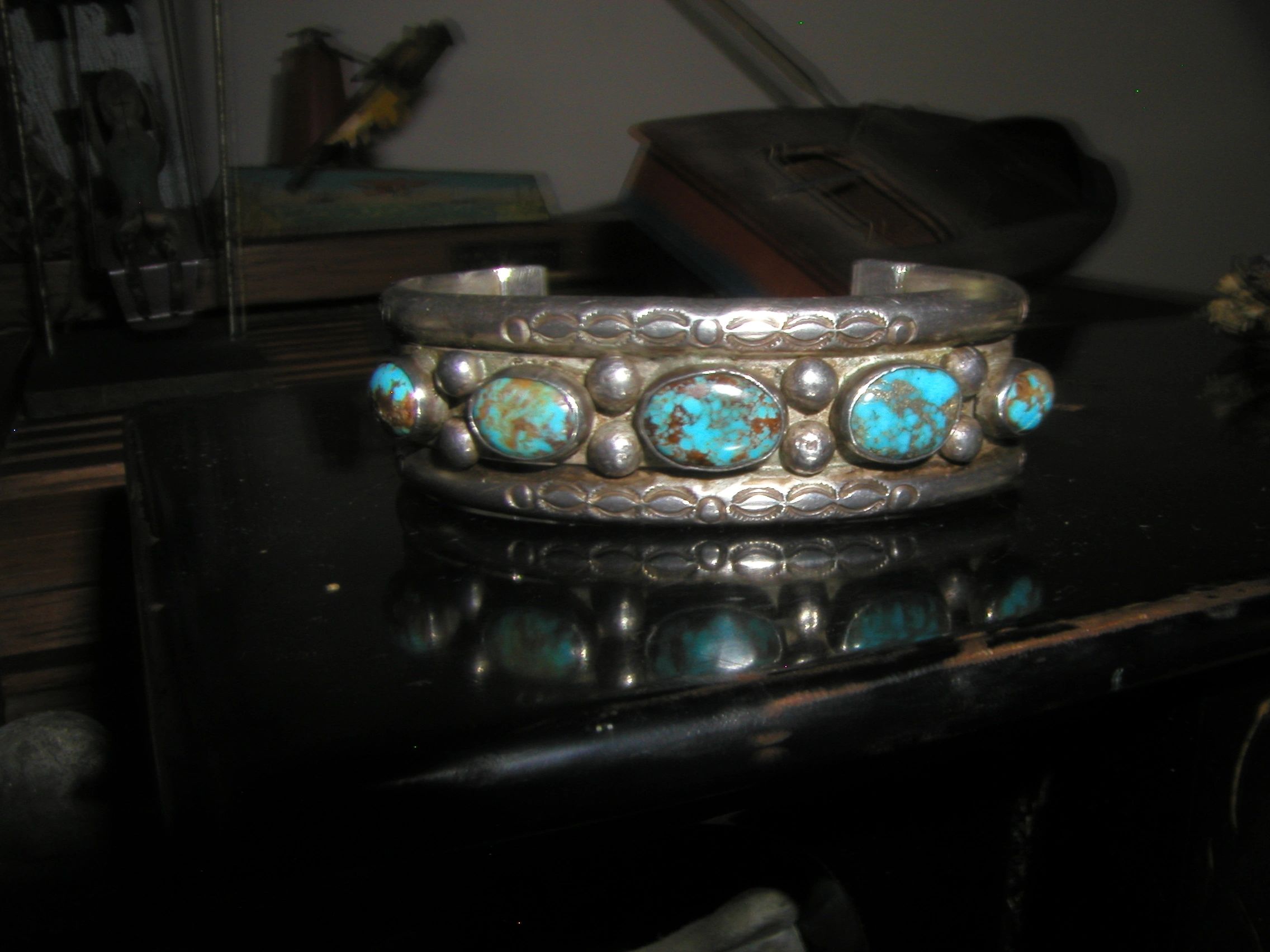 Dimensions: Price: $1149.00

Width: 3/4 Inch,
Inside Circumference:
5 1/4 with
a 1 5/8 Inch Gap.
Weight: 50 Grams







Item: DK068

1940's " Navajo " GUILD MARKED INGOT BRACELET


Out of my "Private Collections", comes this early NAVAJO Silver Ingot Row Bracelet.
This piece is Totally AUTHENTIC and HALLMARKED with the United Indian Traders Association
(UITA-17)
which gives it provenance
Five (5) High Grade Matched NATURAL MORENCI CABS add to its Beauty.


Dimensions: Price:$1350- Width: 2 1/4 Inches,
Stone Size: 1 7/8 Inches x
1 5/8 Inches.
Inside Circumference: 5 1/4 Inches with a 1 1/8 Inch Gap.
Weight: An Impressive 92 GRAMS !!!!










Item: DK069

1930's/40's NAVAJO INGOT BRACELET --PETRIFIED WOOD

I would have to say that this is one of the nicest NAVAJO Petrified Wood Bracelets that I have had the pleasure of owning. Totally AUTHENTIC and NOT made for the Tourist Trade.. It features Four(4) Ingot wire Cables with inside caps. The central medallion features a LARGE Cab surrounded by twisted wire,Silver Balls and Round Silver Wire. Flanking
the center are Two
(2) of the nicest HAND STAMPED Plates that I have seen.