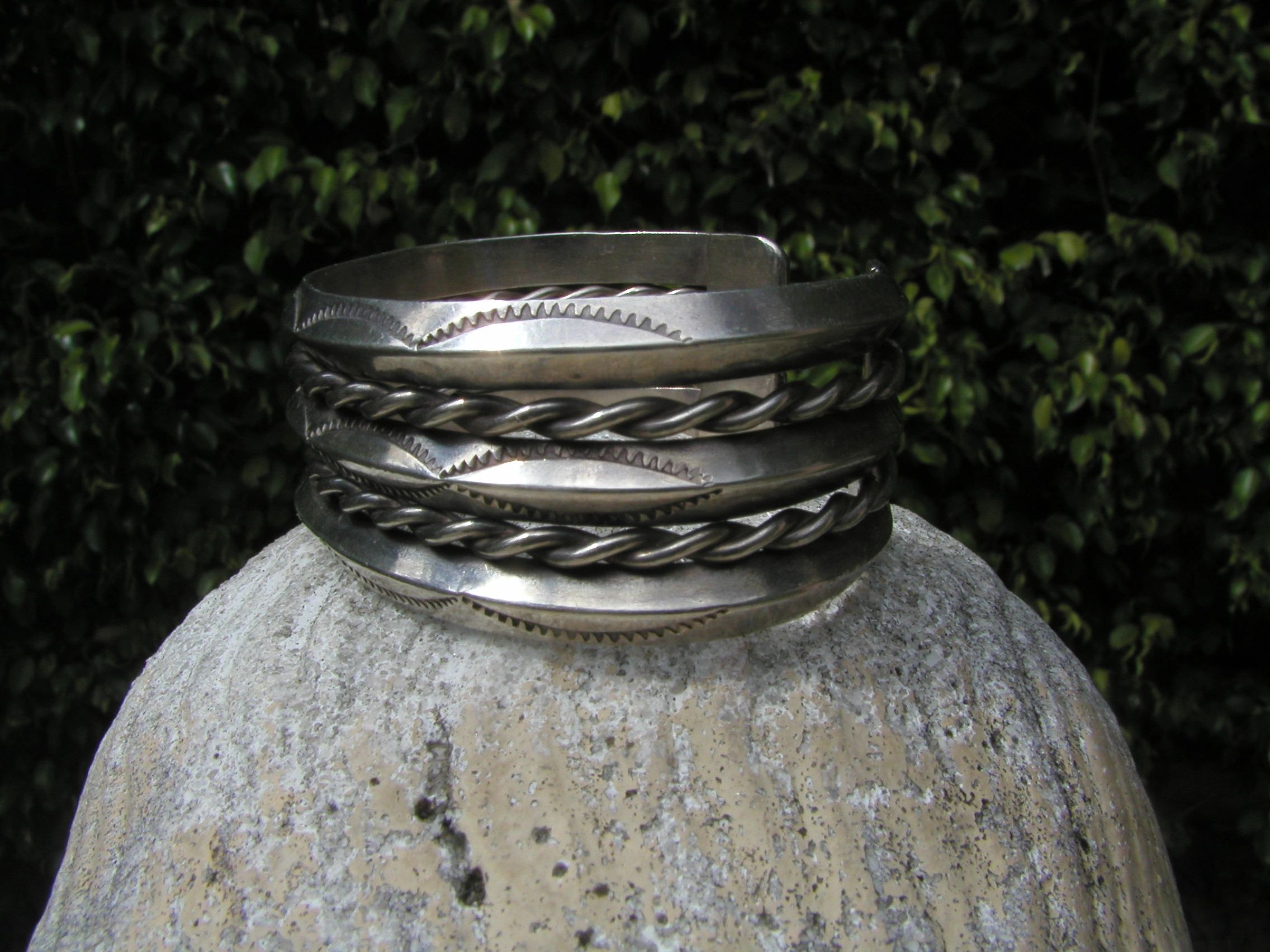 Dimensions: Price: $175.00

Width.. 7/8 inch,
Inside Circumference
5 1/8 inches with
a 11/16th Gap..

WEIGHT IS AN IMPRESSIVE
47 GRAMS...
Item: DK062
1960's HEAVY **CARINATED** SILVER NAVAJO BRACELET

This NAVAJO Carinated Silver Triangle Wire and Twisted Wire Bracelet is well executed.

Joined with wide inside caps, simplicity and beauty at a fantastic price !!!!





Dimensions: Price: $395.00

Length from hook to eye..
30 1/2 inches (hangs down 15 inches),

Weight 4.7 OUNCES...


SOLD
Item: DK065
1950's/60's NAVAJO STAMPED SILVER GLOBULAR BEADS

These Graduated Navajo Globular Hand Stamped Beads came out of Santa Fe, New Mexico , in the late 60's.

Strung on NATIVE AMERICAN Fox Tail, This is the provenance on this piece... Let the pictures speak for themselves..








Dimensions: Price: $795.00

Length from hook to eye..
18 inches, Naja.. 2 inch width,
2 1/4 inch height.

WEIGHT..
A WELL BALANCED 3.2 OUNCES







Item: DK066
1940's AUTHENTIC NAVAJO CHILD'S SQUASH BLOSSOM NECKLACE

This circa 1940's PETITE child's COIN SILVER Squash Blossom necklace is TOTALLY AUTHENTIC.

Traded for in 1969, it features HAND MADE BENCH BEADS, BLOSSOMS AND NAJA.

This necklace is not only made well, it has the feel and patina of a worn and loved piece.

12 Beautifully Matched GEM QUALITY MORENCI TURQUOISE STONES add to its exceptional workmanship.

Could be worn, not only by a child, but by a petite woman.