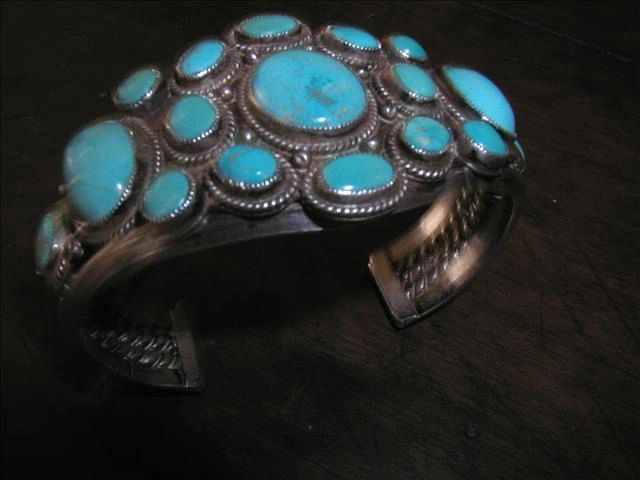 Dimensions: Price: $1895.00
Width: 1 3/4 Inches at Center

Inside Circumference:
.5 3/4 Inches with a 1 3/8 Inch Gap

Weight: 84 GRAMS





















Item: DK172

EARLY Navajo CLUSTER INGOT SILVER BRACELET

This 1930's INGOT SILVER Bracelet was made for Personal Use.

What a Magnificent piece of Silver Smithing. Featuring a Satellite design with Hand Cut GEM QUALITY PERSIAN TURQUOISE CABS. Surrounding each Cab is fine Hand Twisted Silver Wire. Small Silver Rain Drops also add to its design. All Cabs are mounted on a Plate (Typical of NA Work)

Look at the delicate fine workmanship on this exceptional Bracelet. Constructed of Two (2) INGOT CARINATED Wires with Two (2) Central Hand Filed Cables with wrap around support caps.

It's a "Work of Art"Pictures don't even do it justice.

Great Patina and Wear.


Dimensions: Price: $1095.00

Width: 4 1/2 Inches wide and 2 5/8 Inches tall

Weight: 47.9 grams



SOLD








Item: DK176

LARGE EARLY Zuni CLUSTER PIN

This ZUNI Pin has everything you want in an AUTHENTIC Collectible. Evidence of this is on the back where the name scratched into the Silver "Rena Bekis Box 5 Fruitinland, New Mexico".
Having an under-standing of NATIVE AMERICANS, as I worked as a child in a Co-op in Phoenix, this is typical of the Zunis' love of the piece they created for their OWN USE.

A total of (75) 100% NATURAL TURQUOISE Set in both Teardrop and Round Motif.

Beautiful Wear and Patina.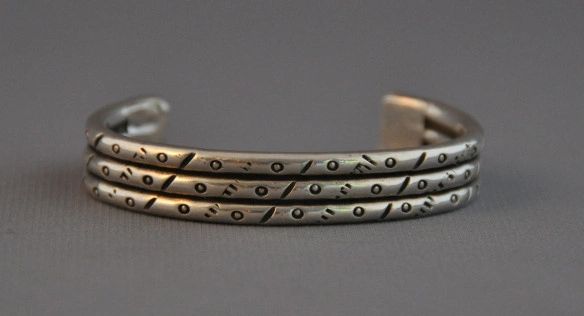 Dimensions: Price: $395.00
Reduced:$325.00
Width: 7/16 Inch

Inside Circumference:
4 3/4 Inches with a 1 1/2 Inch Gap
Weight: 1.4 Ounces

Item: DK177

EARLY Navajo INGOT SILVER BRACELET

This 1930-40's INGOT SILVER Bracelet is typical for Early designs in Hand Crafted Indigenous pieces.

Features Three (3) Hand Pulled, Hand Filed Stamp Wires with Hand Pounded End Caps.

A GREAT AUTHENTIC Piece for Your Collection.