Dimensions: $950.00 ITEM: DK 032

Indigenous Navajo Squash
From Hook to Eye..
22 3/4 inches, Blossom Necklace Necklace


Naja.. 1 3/4 inches x 2 inches,

Weight: 3.8 OUNCES
This Necklace is Totally Handmade Goods Notice the Blossoms

Handmade Bench Beads Typical of Native American Construction

Item: DK032 SOLD
Circa 1940's NAVAJO COIN SILVER SQUASH BLOSSOM NECKLACE

If you have been looking for an EARLY AUTHENTIC NAVAJO Squash Blossom Necklace that is Easy to Wear and Well Balanced... This is the answer to your prayers. Not only does this have HAND MADE BENCH BEADS and a TUFA CAST NAJA, the blossoms are also hand chiseled and filed. Check out the hook and eye !!!(See Photo)
This is not your standard hook and eye buy a totally hand tooled out of COIN SILVER. Strung on fox tail the way you want your Authentic Pieces Strung! The Naja also features a HIGH GRADE NATURAL, UNTREATED Cripple Creek High Domed Turquoise Cab.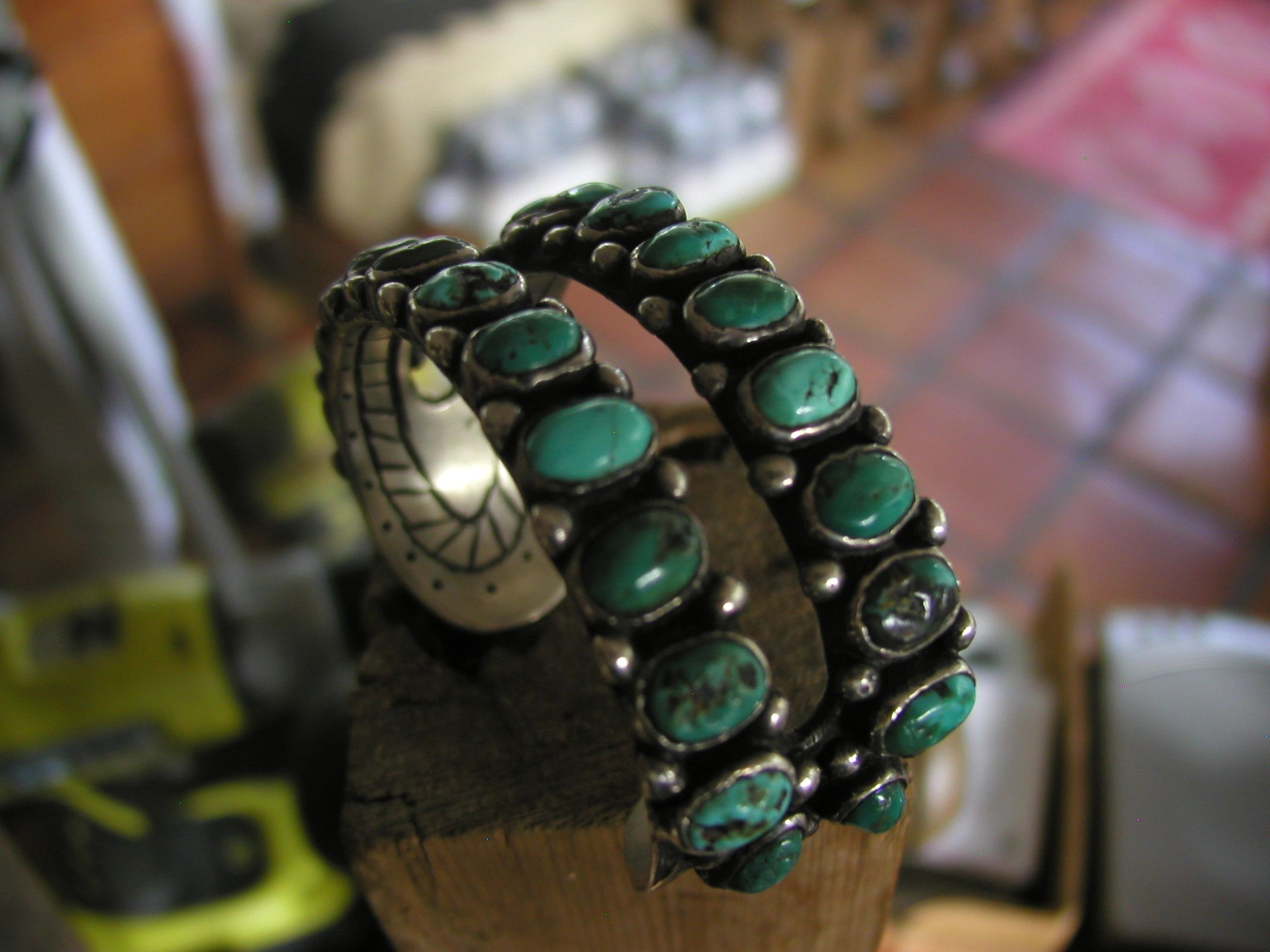 Dimensions: Price..$3000.00 ITEM: DK 033
Width ..1 1/4 Early Indigenous Navajo Coin

Inside Circumference SILVER INGOT MADE 4

5 3/4 in. Gap 1 1/4 in. PERSONAL USE!
Weight ..4.5 ounces I
GREAT PATINA AND HONEST WEAR - MUSEUM QUALITY
Item: DK033

INDIGENOUS NAVAJO
INGOT BRACELET RARE
MADE FROM COINAGE
CA 1915-1920'S

This is a Great Early
Ingot Bracelet with
Chisel & File Work..Made
4 Ones Individual Use it
also Features Repousse
Reverse Punchouts.The
Tools were Primitive yet
the Silversmith did a
Masterful Job..There was
an Early Native American
Repair on the Shank see
Photo.An Excellent Strong
Repair that does not
Affect the Integrity of
This Bracelet Whatsoever
Great for a Large Wrist