Dimensions: Price: $175.00

Size: 7 1/2 Inches



SOLD
Item: DK162

EARLY Zuni TURQUOISE CLUSTER RING

This AUTHENTIC ZUNI Ring has beautiful workmanship. Featuring 100% NATURAL TURQUOISE TEAR DROP and ROUND Hand Cut Gem Stones.

It is very Unusual to find a Ring such as this with NATURAL TURQUOISE as most have Stabilized Material. All Stones are Mounted on a Plate with Silver Balls surrounding the circumference, Split Silver Shank.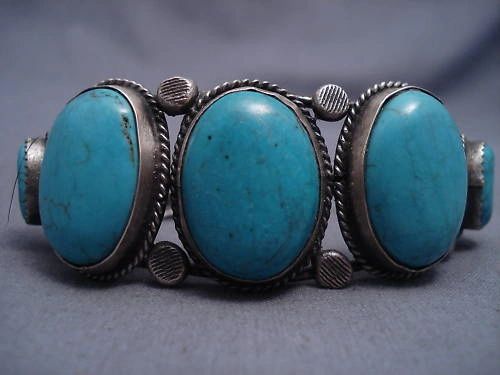 Dimensions: Price: $495.00

Width: 1 1/8 Inches
Inside Circumference: 5 3/4 Inches with a 1 1/4 Inch Gap

Weight: 50 Grams

SOLD













Item: DK163

1950's Navajo ROW COIN SILVER BRACELET

This NAVAJO Bracelet features Five (5) Matched TURQUOISE Cabs, simple Bezel Set.
This Early Bracelet is evident by its' construction-. Make note of the Three (3) Hand Pulled Silver Wires joined at the end with outside support Cabs. This is NOT Commercial Grade Silver Wire, as you can see marks and width variations as it was pulled through a Plate. Separating the TURQUOISE Medallions are Hand Filed Buttons.